In constant motion, Sonomar is involved in various fields of cinema. With its philosophy of being involved from the very beginning of the productions it works on, it was natural for it to become a producer of film, television and other media content. 
We are open to collaborating on your future projects and to sharing with you the risks and responsibilities inherent to the making of a project. By becoming co-producers, we become partners in adventure, offering our personalized and committed services, all in a relationship based on trust, mutual respect… and creation.
Currently in production: The silent treatment
The immobility imposed by the pandemic has slowed the movement of life and reshaped its soundscape.
The silent treatment allows us to encounter unexpected sounds, usually muffled by everyday life, through the ears of different sound professionals, on the images of Pierre-Étienne Lessard.
Halfway between a contemplative work and a documentary, this film is above all a sound exploration of a silence that is both foreign and known.
To be released in 2022.
Pierre-Étienne Lessard
"At the beginning of the first confinement, I received a call from Martin Pinsonnault, who told me he had taken out his microphones to record the silence of the confined city, and invited me to join him with my camera. To my great pleasure, we went for three months to document the vibrations of Montreal.
In general, in the city, there are twenty layers of sound all the time: it's a magma, an accumulation, which becomes a big, undefined noise. But here, there were perhaps a dozen layers of sound that had disappeared.
Moreover, during our first shootings in early April, there were no leaves in the trees, so there was almost nothing to dampen the sound. The same thing happened downtown: in the concrete areas, without the usual engines, all the sounds became more defined.
In short, it was unique.
It's funny, but during The Silent Treatment shoot, I felt like I had my ears back, my attention. I felt more present."
Martin Pinsonnault
"When it started, it was obvious that it was unique. I thought, 'We have to record this,' because when you lose the traffic, the cars, the world, you hear other things. Little things. You hear further, it resonates. The places have a sound that is more purified, that sounds at its simplest.
During the shooting, we had the impression that it was always Sunday at four o'clock in the morning, even on Friday night in the middle of downtown. We often had the impression of being in a disaster movie set where zombies could appear in the frame at any moment…
It made us aware of a different kind of listening…an animal reflex, a vigilance to the slightest sound…a kind of state of expectation, where most of the time, we started to hear things long before we saw them.
That's what I found exciting: to hear things I've never heard before and never will again. There wasn't much going on visually during that time, but it was really conducive to listening and recording. And that's kind of what gave me the audacity to make this film."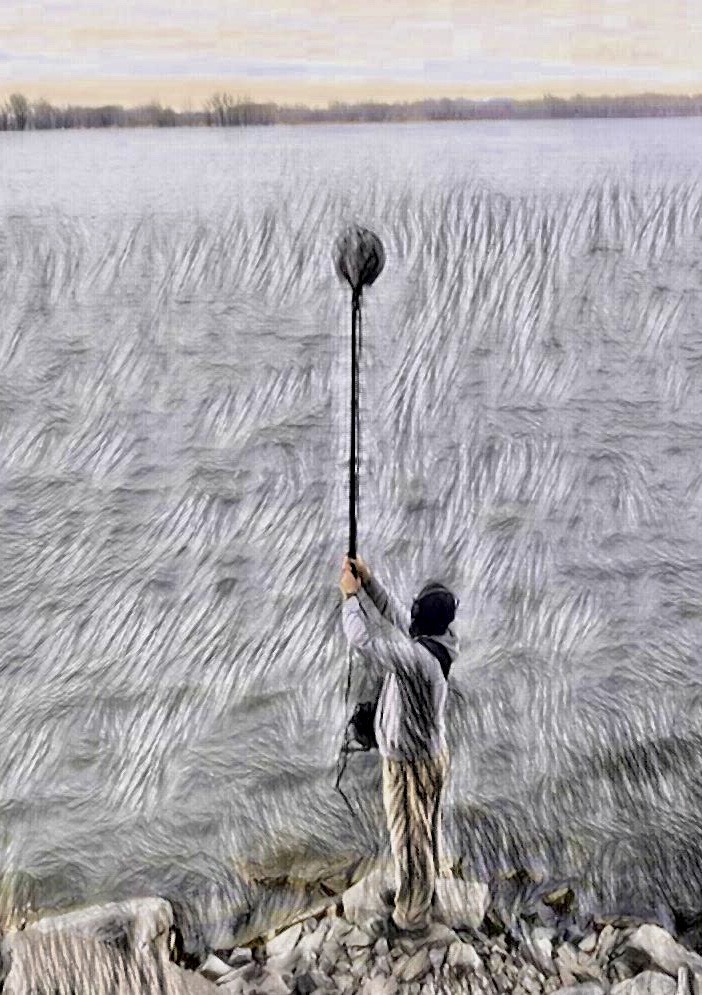 Production and direction
Martin Pinsonnault Pierre-Etienne Lessard
Sound recording and sound design
Martin Pinsonnault
Soundtrack
Maxime Morin – DJ Champion
Cinematography
Pierre-Etienne Lessard
Drone image
Dizifilms
Additional images
MADOC
Film editing, colorization and effects
Alain Baril – Postkopic
With the participation of
Marie-Annick Béliveau
Contemporary and classical singer
Musical director, teacher, doctoral candidate in music at the UQAM
Joseph Grenier
Son of Marie-Annick Béliveau, student and classical singer
Eve-Caroline Pomerleau
Documentary director, researcher, production manager
Magali Babin
Sound artist, musician
D. candidate in art studies and practices, music at the UQAM
Co-director of Villeray acoustique
Chantal Dumas
Sound artist, musician, artistic director
Co-director of Villeray acoustique
Andréa Marsolais-Roy
Musician, sound engineer, sound designer in performing arts
Dominic Champagne
Author, director and environmental activist
Stéphane Frigon
Psychologist, blind, virtuoso guitarist
Mothers Step In